---
NEUE SKIN & BEARD GESICHTSCREME
---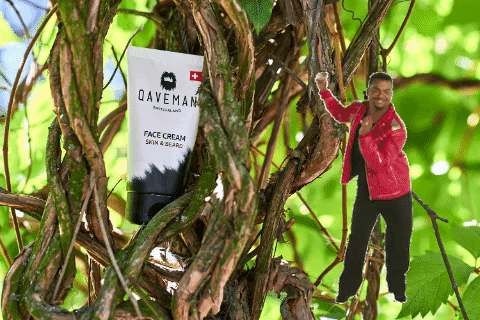 ---
Sag hallo zu unserer neuen Gesichtscreme
---
Wir freuen uns sehr, offiziell unsere neue Skin & Beard Gesichtscreme auf den Markt zu bringen: Die ultimative Wahl für alle Männer mit einem 3 bis 5 Tage Bart.

Egal ob du gerne einen leichten Bart trägst oder einfach zu beschäftig (faul?) bist, um dich mehr als einmal pro Woche zu rasieren: Du musst dich trotzdem sowohl um deine Haut sowie auch deinen Bart kümmern.
Zu deinem Glück haben wir was für dich!
---
Warum eine Skin & Beard Gesichtscreme?
---
Die Qaveman Skin & Beard Gesichtscreme pflegt die Haut und den Bart zugleich und ist der perfekte Begleiter für kurze Bärte.
Bei der Anwendung wird die Haut mit Feuchtigkeit versorgt und beruhigt, während der Bart bei Berührung weicher wird.

Einfacher geht es nicht.
---
Was ist drin?
---
Kamelienöl:
Das Kamelienöl hat eine schützende und umhüllende Wirkung auf das Haar.

Schneerotalgen:
Der Extrakt aus schneeroten Algen hat glättende und feuchtigkeitsspendende Eigenschaften auf der Haut.
---
---
---
---
...und vergiss nicht unsere weiteren Produkte!
---
Rasiercreme
---
After Shave
---
Feuchtigkeitscreme
---
Waschgel
---
---
---
---
---
Folge dem Stamm!
#MENEVOLVE
---
You are receiving this email because you signed up for our newsletter on Qaveman.com
To make sure you keep getting these emails, please add info@qaveman.com to your address book or whitelist us.
---
No longer want to receive these emails? unsubscribe here.
Wrong Name? New Address? update subscription preferences here
---
Copyright ?2017 Qaveman AG, All rights reserved.
---
---