---
NOUVELLE CRÈME VISAGE & BARBE
---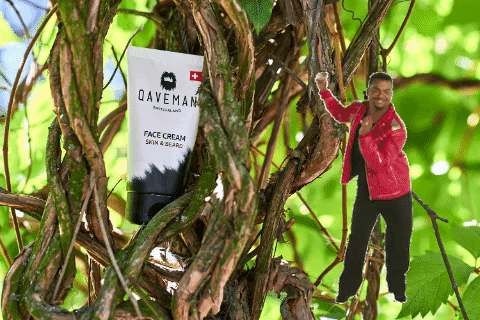 ---
Notre nouvelle crème hydratante Visage & Barbe est là!
---
Nous sommes heureux de te proposer notre nouvelle Crème Hydratante Visage et Barbe : Le choix ultime pour une barbe de 3-5 jours. for all men with a 3-5 days beard.

Si tu aimes porter une courte barbe ou si tu es simplement trop occupé (ou paresseux ?) pour te raser plus d'une fois par semaine, il te faut prendre soin de ta peau ainsi que de ta barbe.
Heureusement, on a quelque chose pour toi !
---
Pourquoi une crème hydratante Visage & Barbe ?
---
La Crème Hydratante Visage et Barbe de Qaveman prend soin de la peau et de la barbe en même temps. Elle est l'alliée parfaite des barbes peu denses.
Dès l'application, la peau est hydratée et apaisée, tandis que la barbe est assouplie et plus douce au toucher.

Ca ne pourrait pas être plus simple.
---
Qu'est-ce qu'il y a dedans ?
---
Huile de camélia :
L'huile de camélia a un effet protecteur sur les poils de barbe.

Algue rouge des neiges :
L'extrait d'algue rouge des neiges a une action lissante, anti-tâches, et hydratante sur la peau.
---
---
---
---
..et n'oublie pas nos autres produits!
---
Crème à Raser
---
Après Rasage
---
Crème Hydratante
---
Gel Nettoyant
---
---
---
---
---
Retrouve la Tribu sur Instagram!
---
#MENEVOLVE
---
You are receiving this email because you signed up for our newsletter on Qaveman.com
To make sure you keep getting these emails, please add info@qaveman.com to your address book or whitelist us.
---
No longer want to receive these emails? unsubscribe here.
Wrong Name? New Address? update subscription preferences here
---
Copyright © 2017 Qaveman AG, All rights reserved.
---
---