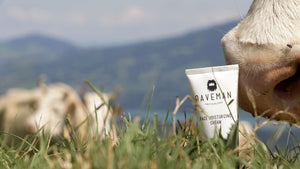 Our Story
The story of Qaveman begins with a man named Julien. Julien used to steal the moisturizing cream of his beloved girlfriend until one day he was caught. Banned from her skincare cabinet, Julien had to go out and find a moisturizer of his own. But what he found was no skincare made for men. So a man Julien decided to make his own skincare.
He joined forces with his old friend, a man named Torben. Together they fared on a quest to fabricate skincare that is good for a man and the earth around him. After one and a half years of testing, failing and learning, they had brought into this world what a man nowadays calls Qaveman.
Made in Switzerland
Qaveman is Quality. Swiss Quality. To ensure highest production standards, we produce locally, in the Cantons Bern, Ticino and Fribourg.
Natural Ingredients
We like to harness the nurturing properties of nature. Parabens and other chemicals are put on our black list. Instead, we use Jojoba oil, Shea butter, Meadowfoam oil, Chamomile, Sweet almond, Ginseng root extract and other natural ingredients.
For Men Only
Qaveman is designed for male use: Specific formulas for male skin with or without beard, easy online-ordering and straightforward user-information. And if your girlfriend asks: yes, our products are vegan and glutenfree!